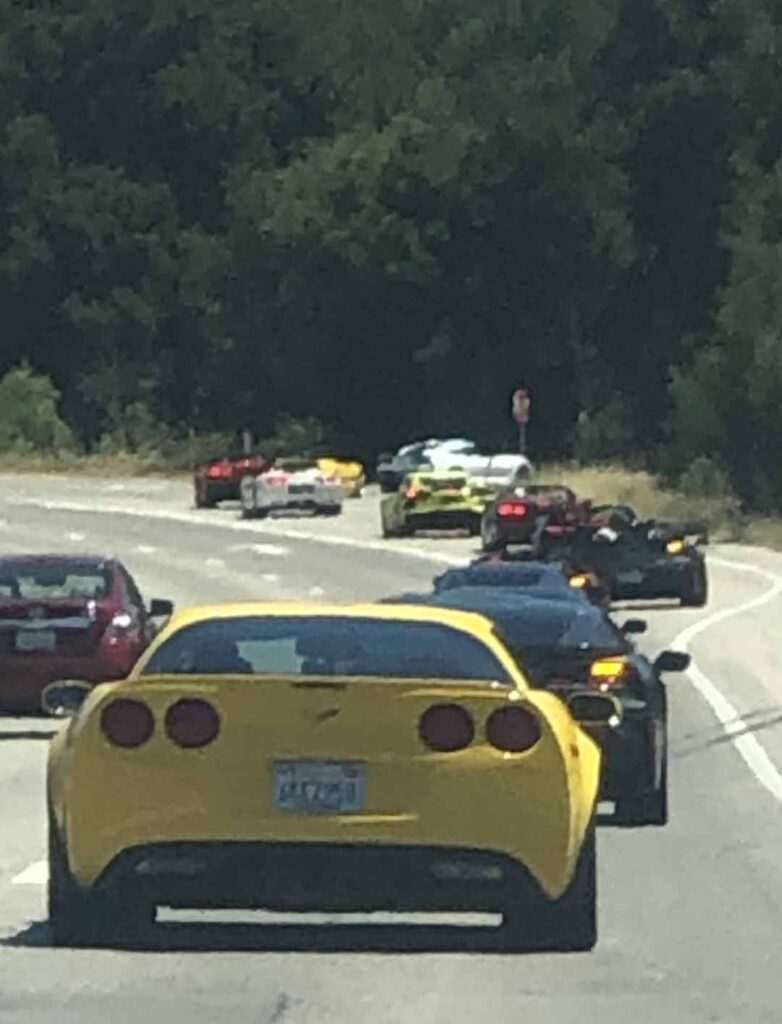 Thursday June 30, 2022: Sheila and Steve C. lead the ride to Solvang Golf Course. We started at the Simi Town Center and then met up with the Ventura Corvette Club in Carpenteria. Jim their president lead us the back way to the golf course and restaurant.
HISTORY OF NATIONAL CORVETTE DAY
National Corvette Day is celebrated as a remembrance of the origins of the Corvette — the iconic American sports automobile. The model was introduced in 1953 by the General Motors automobile factory in Michigan. The unique design and sturdiness of the Corvette made it widely popular and it soon became a symbol of American industry and national pride.
In 2008, the American House of Representatives announced that June 30 would be commemorated as National Corvette Day. Incidentally, this was the year when GM had completed 100 years of its operations, which made it the right time to dedicate an entire day in the national calendar to celebrate an important milestone.
Another interesting fact is that 2008 was also the year when the American automobile industry, and the entire economy for that matter, was undergoing a huge crisis. It was the biggest crisis since the Great Depression and was being felt quite severely by the automobile industry, including General Motors.
Therefore, by announcing National Corvette Day, the government also intended to reduce some of the gloom and doom that was being spread about the American automobile industry by celebrating one of its most remarkable achievements.
The decision proved to be timely and well-received because since then National Corvette Day has been celebrated regularly across America and the automobile industry has also recovered from the crisis. Today, celebrating National Corvette Day has become a symbol of the American people's faith in their automobile industry and confidence in its prosperous future.